Confederation Marine Modellers


The Word from the Quarterdeck
The Word from the Quarterdeck
The Word from the Quarterdeck
The Word from the Quarterdeck
The Word from the Quarterdeck
The Word from the Quarterdeck
From your President:

My warmest New Year Greeting to you all, and the best for 2018!

We have a couple of new activities planned for our club this spring, including the first formal AGM at our February meeting, that I recall our club having since I joined it back in 2000. It provides our membership with another means of expressing their views on club matters. As well, we will be holding a dinner in March, organized as an Awards Night, as well as a social evening for the members and their wives and families. I'd ask the membership to please support both venues.

Our next few public events are based out of the Warplane Heritage museum at Mount Hope, and provide a welcome return back to our hobby after a break over the holiday season.

I hope this message finds all our club members and their families safe and healthy, and I'm sure we are all looking forward to spring and the return to our outside events.

I hope to see all of you at our next meeting on February 13th.

Don't forget to top up your batteries!

Steve
Well, our event schedule has launched well for the 2018 sailing season!

The schedule this year is turning out to be different than what your Executive had planned on, and some of the changes will be impacting our club for the next couple of years. We are seeing changes in some of the more traditional indoor events that we have attended in the past. We are also seeing the effects of tensions that have developed between organizations that have different aims and objectives.
We are also seeing the effects of people getting together to support a common goal and setting aside biases and concerns. I am referring to the work that the Tillsonburg club, the Metro Marine Modellers club, and our club, have been doing quietly for the past few months. Our common objective was to provide support for the Lake Lisgar group, to enable them to once again put on their traditional July 1 Fun Run. It has been announced that the July 1 event is on once again and hopefully for years to come.
Our own events are always well supported by members from other clubs, and we try and ensure that CMM provides a reciprocal support to their events.
I urge all of you to support our hobby, support the efforts of the GLMBA in coordinating events across southern Ontario and upper New York State, support both your own club, and the sister clubs in the GLMBA as we all strive to present our hobby to the public in the best possible light.
And at the end of the day, support one another in our efforts to become better modellers, and in our efforts to enrich our friendship with each other.
Keep your oar in the water and a fair breeze in your sails……

Steve

The Word from the Quarterdeck
The Word from the Quarterdeck - 12 month archive
At the end of May I attended our "Boats in the Park" annual event, our cornerstone annual event for Confederation Marine Modellers. As I stood back and looked at the event I marvelled at many aspects of it and I'll try to describe them:
Venue – The Hamilton Museum of Steam and Technology is a beautiful place to spend an afternoon even when there aren't special events going on. The Museum reaches out especially to our members in that almost all of us are tech geeks in one way or another. We have the knowledge to understand what went on with the huge pumps that provided water for Hamilton a hundred years ago. And, on top of that, the Museum supports us continuously and generously though our use of the meeting space, storage of our pond and help with promotion and running of our events there.
Camaraderie – It always amazes me how our members come together to make an event happen. Planning seems to happen almost automatically and on the day of the event guys show up on time and put it together very quickly (get there early or you'll miss out on the fun) and seemingly effortlessly. Lots of joking goes on and then, almost always, off to Tim's for a coffee.
Public Participation – To see how the public shows up to look at our boats and to ask lots of questions (Does that sailboat have a propeller?) tells me that we don't just play with toy boats; we create engineering marvels that are unique and beautiful and people want to know all about them. Add to that the fun of the balloon busters and the opportunity for kids to run the pusher tugs and you have a fun filled day for modellers and visitors alike.
Exchange of Ideas – At quieter times during these events we see boaters chatting in pairs or small groups and more often than not the topic is the "How do I?" question. At that event I asked Don Hodgson about how he powered the lights to the superstructure on his new cabin cruiser and he generously spent time to show me the brass contacts he had bent over the coaming and inside the cabin wall to enable him to remove the cabin without having to disconnect wires. Brilliant, I thought, and by the next week I had replicated his system in my new tug thus enabling me to move the lighting battery lower in the rather top heavy boat.

There are many, many reasons to attend our CMM club events; these are just a few.

Paul Charles
The Word from the Quarterdeck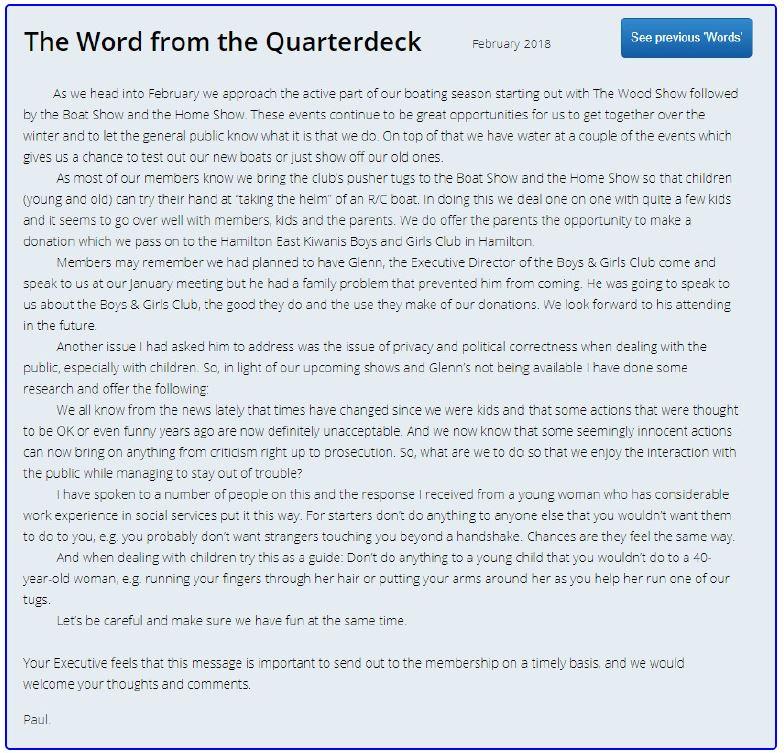 By now you have received an invitation to the annual meeting and dinner for the GLMBA. It will be held on October 20th at the Stoney Creek Legion Branch on King Street in Stoney Creek. The meeting starts at 11 a.m.

But do you know what the GLMBA is or does as part of our model boating community? I know when I first became involved in the hobby I had no idea what GLMBA even stood for.

GLMBA or the Great Lakes Model Boat Association is a coming together of model boat clubs in Ontario and New York State to promote the hobby and coordinate activities and events while sharing information on our club activities. By being a member of any member club of GLMBA you automatically become a member of GLMBA.

And what then does it do? GLMBA was set up originally to ensure that neighbouring clubs did not inadvertently schedule events that would limit members from attending as many events as possible so schedules are now carefully coordinated to avoid any conflicts. Second, GLMBA oversees rules of competitions which clubs hold such as build competitions or high point regattas. This guarantees that you can expect the same treatment in any competition held by any member club. Third, a fairly recent addition to the offering of the GLMBA is to make available liability insurance to member clubs. By sharing this insurance policy the cost per member of all clubs has dropped substantially over the years.

The GLMBA is run by a board made up from representatives from all member clubs. Delegates from clubs attend the annual meeting and they elect an executive to run the organization.

Over the years the GLMBA has hosted quite a fancy dinner with extensive awards and prizes for members to enjoy.

If you haven't attended before you may wish to consider it this year.

Paul

The Word from the Quarterdeck
As I write this I am looking out the window and seeing the results of a cold, windy fall followed by an early onset of winter. And spring is a long way off!
So I started thinking about boating events for next season.

Have you been to a "High Point"? Do you really know what it is?
I sure didn't when I first showed up a few years ago and gave it a try. I have to say it was a bit of a lesson in frustration initially but very soon I saw that it can be a lot of fun. A High Point Regatta is a day long event with different challenges presented to participants who are running their boats. The events are as follows although not all competitions include all events:
Precision steering and docking – This event duplicates the operation of full-sized boats as captains are required to navigate their craft around a circuitous course and dock it along side a pier. This is to be done while keeping within the illustrated course and without hitting marks and other obstructions. Points are lost for collisions with things and for missing the course.
Predicted Log – This is not at all as complicated as it sounds. But it is tricky and you need to know your boat. The contestant is to predict how long they will take to navigate a course. Upon completion of the course the contestant's real time is compared to his predicted time and a score is determined accordingly.
Salvage – In the salvage event each contestant is equipped with a drag line of about six feet and this line has two floats attached along its length. The challenge is to encircle the derelict boat with the drag line, snag it and pull it to shore. Not as easy as it sounds but good practice for any boating event. Scoring is based on success in salvaging the derelict and the elapsed time for the process.
Straight Steering – This event is about boat setup and lots of luck concerning the wind. The contestant sets the speed and rudder to go as straight as possible at the start gate and turns the transmitter over to an event official. At the end of the course the score is determined by which of the numbered gates your boat went through, the nearer the middle, the higher the score. In this event R/C boats, sail or power, or free running boats are eligible.
Conning – Conning requires a two-person team, the Captain and the Crewman. As is the case with large ships the captain instructs the Engineer (who is below decks) as to the position of the throttle and the helm and the crew sets them accordingly. In our event the Captain and Crewman stand in the operating area, the Captain facing the water and the Crewman with his back to the water. The crewman operates the radio transmitter, without seeing the boat, on orders from the Captain. Again scoring is based on keeping to the course without hitting obstructions.

As you can see the High Point Regatta can be a lot of fun. We will be hosting one next summer as always and I encourage you to come out and give it a try. I am hoping we may have a couple of practice sessions on Thursday nights leading up to the event.

Paul Charles


From your President:

Spring is supposed to arrive this month, but the temperature predictions do not hold a lot of promise for us to be able to launch our outdoor sailing season any earlier than usual.

We are all probably starting to look at what we put into storage last fall, and perhaps are wishing that we had spent a bit more time in repairing the ravages of the 2017 sailing season. All my boats seem to have a few more scratches and dents than they did at the start of 2017!

I also now wish that I had built in some more structured hobby time over the winter season, in order to bring a couple of building projects a little closer to completion.

At any rate, I am looking forward to spring, and our Thursday nights at Spencer's, and weekend sailing at a variety of venues, and also seeing the membership out to our events, including a couple of new ones for this season!

Don't forget to check your Tx batteries and your drive batteries! Make sure all the drain plugs are where they are supposed to be, and working properly to keep the water out!

Keep your oar in the water and your gunpowder dry!

Steve
The Word from the Quarterdeck
WHAT IS YOUR NET WORTH?

When we speak of a person's "net worth" we tend to think in monetary terms. How much is their house worth, what kind of car do they drive etc. We are all familiar with the names of Jeff Bezos founder of Amazon worth 112 billion dollars and Bill Gates founder of Microsoft worth 90 billion dollars. We may not possess the necessary business skills or don't aspire to be as "rich" as these two individuals. So how can you increase your our own "net worth" and enrich the lives of others? Why not VOLUNTEER!


There are a number of reasons why individuals volunteer.
- have fun and enjoy helping others
- make a positive difference in the lives of others
- share their knowledge and skills with others
- want new experiences
- give back to their community
- have time now that they are retired

Scientific studies have shown that positive health benefits can be attributed to volunteering. Some of these include an overall boost in self- esteem, lower risk of memory loss, less incidents of heart disease and an overall improvement in the general health of an individual.
In Canada it is estimated there are an estimated 12.7 million volunteers. You don't have to volunteer in large organizations such as the Cancer Society . There are many opportunities within our club such as sharing your boat building expertise with others, setting up/taking down the pool, attending special club events, organizing club events to name only a few.
Take the plunge and increase your "net worth" by volunteering within our club Confederation Marine and add YOUR name to the list of 12.7 million volunteers .YOU have nothing to lose and everything to gain!

Frank Glenfield

From your President:

Well, our event schedule has wound down to its off-season ebb, as our events move inside more and more, as the weather cools off and the water gets harder.

There are changes coming to some of our indoor events that may make members uneasy or upset. There are conditions beyond our control or influence in play here that means we can only watch, wait, and hope that there is still the chance to meet with the public in some kind of public show.
It is important to realize that nothing remains the same. The Rocky Mountains are gradually being ground down. It may take millions of years or more, but they are on their way out. Temperature averages are on the rise, but then at some point they will subside again. Mankind may not be here to see that, but it will happen.

Closer to home, I have to report that the Lake Lisgar Sailors in Tillsonburg is no longer operating as a formal group , but there are a few guys who still sail from time to time.

The best that all of us can do is to support our hobby, support the efforts of the GLMBA in coordinating events across southern Ontario and upper New York State, support both your own club, and the sister clubs in the GLMBA as we all strive to present our hobby to the public in the best possible light.
And at the end of the day, support one another in our efforts to become better modellers, and in our efforts to enrich our friendships with each other.

Keep your oar in the water and your thwarts dry, otherwise you will have a slow, damp time getting to where you want to be …..

Steve

The Word from the Quarterdeck
A few days ago my wife, Katharine, and I had lunch with friends we have known for over twenty years. As always it is nice to get together and catch up on what's going on. John showed us a number of fabulous photos he had taken over the past year on his travels. He has the latest in digital cameras and is an excellent photographer. As he showed us the photos on his iPhone I realized he was like a teenager – constantly referring to his phone as we enjoyed each other's company.
John is a "hobby guy" with expertise in Ham radio operation, computers, cameras, cars and any other technology he can get his hands on. He is an accomplished sailor, of both full-size boats and model boats. Many years ago he encouraged me to get involved in model boat sailing and he made sure he knew all the best ways to use technology to help him reach the finish line first as winning has always been very important to him. His car is equipped with all the latest gizmos and he uses every one of them.
When I asked about his interest in technology he told me that he and his wife didn't want to let technology get ahead of them as it wouldn't take long before you would be unable to catch up so they have embraced it to the fullest.
When I got home that day John e-mailed me to say that he had chatted with a young man outside the restaurant who was riding a new unicycle Segway along Ottawa Street in Hamilton. It is quite a feat of engineering and moves along at 24 km/h. John did the research on it and it wouldn't surprise me if I see him riding one next week.
I have always been one to try to keep up with technology as it has always interested me and when I see people like John I realize that keeping up to date is a great way to stay young. I don't want to rely on my neighbour's kids to tell me how to run the PVR or to get my internet working again.
When it comes to your model boating do the research. Whether it's the latest propulsion system, brushless motors, digital servos, light weight long lasting batteries or the newest 2.4 transmitter (did you know Hobby King has a radio now for well under $100 that even lets you know on shore the voltage of the batteries IN your boat?) you should check it all out. Not all technology is expensive but almost all of it is fun.
We don't need to be left behind and it is a very interesting to be on the leading edge.

By the way, did I tell you John is 88?
​Paul.